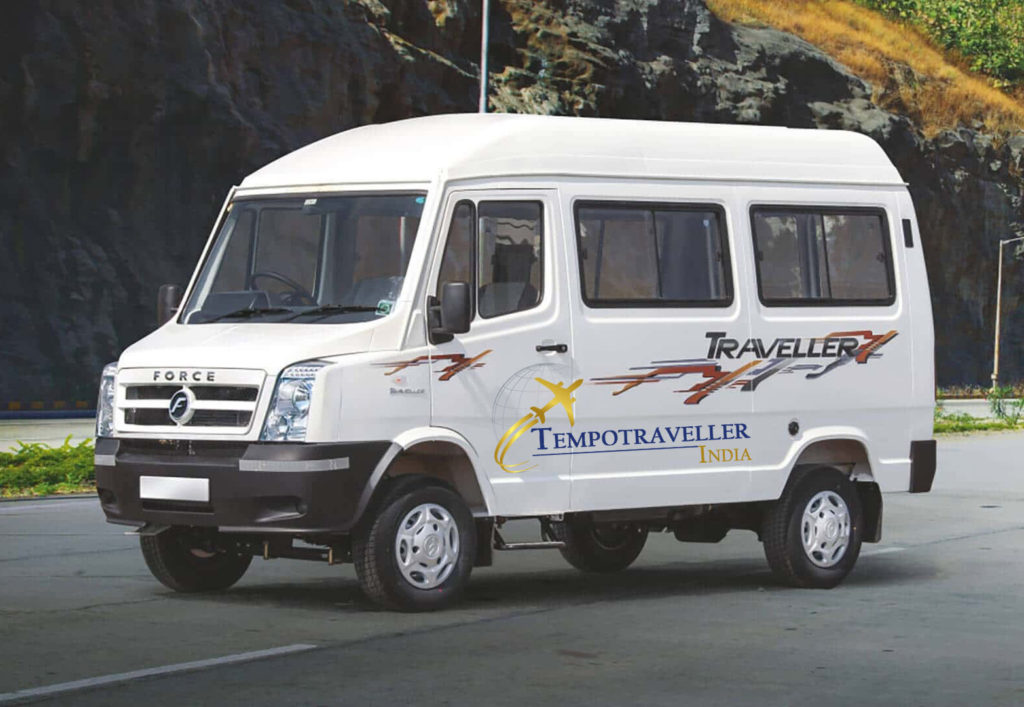 Tempo Traveller in Udaipur
Shri Sanwariya Tours & Travel makes it easy to plan a tempo traveller in udaipur to road trip with your loved ones. Our customers can choose from a variety of luxury traveller and cabs to make their trip enjoyable. We also ensure that our passengers have the privacy they desire while on their India travels.
You will need a vehicle to transport you and your family to Udaipur's rich heritage, culture, and historic sites. Tempo traveller service in Udaipur can be a great option.
Udaipur is a beautiful city with various stunning places such as City Palace, Fateh Sagar Lake, Saheliyon Ki bari, Lake Pichola, Moti Magri, Ambrai Ghat, etc. Shree Sanwariya Tour & Travel can help you get from one place to the next.
Our tempo travellers are equipped with either push-back or recliner chairs. Additional comfort options such as water bottles, blankets, and fully functional charging ports are available.
Our top-rated service provider for tempo traveller hire in Udaipur offers half-day and full-day services, as well as a local station, outstation, or transfer trip services. Transfer trips include dropping off and picking up at the airport, railway stations, hotels, and other destinations for local and international passengers.
You will need to hire a few cabs if you plan to take your family, friends, or another large group on a trip. Tempo travellers are the best option in such cases. We keep your group together so you can enjoy many activities and the journey joyfully.
We want you to have an unforgettable, hassle-free, and flawless experience when you travel with our Udaipur Tempo Traveller Services. We don't want to make you regret spending your money. On the contrary, we do our best to provide you with the best possible travel experience.
We are experts at providing a memorable and enjoyable travel experience for our customers. Three main factors will enhance your travel experience: an amazing company, a familiar driver, and a vehicle with all the comforts.
Shri Sanwariya Tours & Travel offers a wonderful traveling experience. We have all the facilities you need and friendly chauffeurs to assist you with your luggage. They also assist physically disabled people by assisting them with sitting down and getting out of the car.
We have many vehicles to suit different occasions and travel needs. As a result, we can guarantee a personal travel experience, whether you're on an office trip or vacation with friends.
Benefits of Choosing us as Tempo Traveller Service provider in Udaipur
Planning a trip with friends, family, or colleagues can be daunting. Tempo travellers are better than public transports if you have a lot of people.
Public transport is not a way to control the facilities and seats you receive. However, it can also lead to group separation, which reduces the enjoyment of the journey.
You can book your seats and choose the type of tempo traveller that suits your group. Then, you can start your journey at your preferred place.
We guarantee you a comfortable and untroubled journey. You can also hire our tempo traveller services to provide you with these vital facilities.
Get separate space for luggage.
There is enough leg room between the two seats.
AC or Non AC Both Facilities Available
All necessary elements are included in the Tempo for a comfortable ride.
Comfortable seats with neck pad, push-back, and headrest
Highly skilled chauffeurs who speak fluent English for international and regional passengers
So that there is no confusion between the journey and payment, we have a clear discussion with our customers about the packages, facilities, and everything else.
Tour packages customized to meet the needs of each passenger
Vehicles that offer top-quality security, maintenance, or other features
Our chauffeurs are friendly and helpful to passengers as well as our cab drivers.
The high-quality music system that will add excitement to your journey
Additional essential amenities such as water bottles, charging slots, and comfy blankets are available.
For emergencies, vehicles are equipped with first aid kits and medical supplies.
24/7 customer support available
Fixed rates and transparent, no hidden fees
A tempo traveller can be hired for all the luxurious amenities, but there is another benefit: you have complete control over your travel experience. You can also enjoy the trip at your own pace.
We are a top provider of tempo travellers service in Udaipur and offer a wide range of quality services to suit your travel needs.
1. Local Sightseeing In Udaipur
We offer tempo traveller for local sightseeing services to all of Udaipur's attractions including City Palace, Fateh Sagar Lake, Saheliyon Ki bari, Lake Pichola, Moti Magri, Ambrai Ghat, Badi Lake, etc.
We want our passengers not to miss any amazing tourist spots, so we continue expanding our tourist spot listing. Udaipur's local station trip takes between 12-16 hours and can be tiring. We want to make your journey as exciting as possible.
2. Outstation from Udaipur to Other Cities
We offer tempo traveller service in Udaipur for outstation trips with your family/friends/colleagues. These services are available from Udaipur to Jaisalmer, Jaipur, Jodhpur, and other beautiful cities of Rajasthan.
Long journeys can be tedious, so our chauffeurs have been professionally trained to drive long hours. They also have years of experience and a better understanding of local and intercity routes. Professional chauffeurs can communicate with both local and international tourists.
3. Pick and Drop Service from Airport/Railway Station
Shree Sanwariya Tour & Travel is a top Udaipur tempo traveller provider for tourists traveling to the beautiful Rajasthan cities.
We provide tempo traveller transfer service in Udaipur. Our services include a pick-up facility at the airport, railway station, and hotel.
Our track record shows that we always drop and pick up passengers on time. Not one of our passengers has ever missed a train or flight.
Our chauffeurs understand that an outstation trip can take hours or more than one day. They have been doing this job for many years.
From our customer service team to your chauffeurs, everyone is highly skilled and trained to provide you with a wonderful experience on the road.
Passenger feedback is very important to us. We want our customers to be completely satisfied with the services they receive. Therefore, we collect feedback from passengers about their travel experiences, the conduct of taxi drivers towards them, and any inconveniences they have experienced during the journey.
Based on the feedbacks, we make improvements to our services to provide better service for our passengers.
We are Udaipur's most trusted tempo traveller and have earned the trust of our passengers. To assist our passengers with their trip bookings, we are available at all times. As a result, our passengers have an unforgettable and seamless trip to local or outstation.
Any passengers experiencing problems during their trip can contact our customer service team immediately. We will resolve your issue within 24 hours.